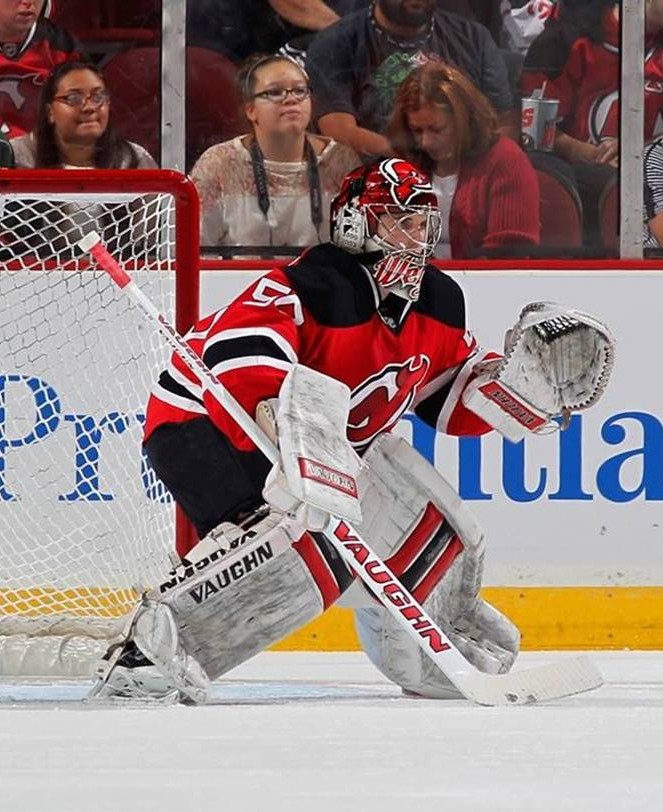 (Scott Wedgewood Wearing A Masked Marvel Outlaw Model With The New Jersey Devils – NHL)
Article appeared on The Goal Net website in April, 2017.
Although Masked Marvels Goalie Helmets was founded in 2004 by Joe Messina and Stan Matwijiw, the story really starts much earlier. Much much earlier to be exact. As a child Joe Messina, became obsessed with goalie masks. It was an affection for one of the more niche NHL mask masks from the 1990's that started this lifelong passion. The Armadilla masks of John Vanbriesbrook, Kelly Hrudey, and Brian Hayward, spawned into a fascination that what would eventually become Masked Marvel Goalie Helmets. If you were not already aware, Masked Marvels is now considered one of the largest private goalie mask companies in the industry. Joe has since then become friends with one of his childhood idols, Dan Straus of Armadilla, and that is pretty cool side note to his role in the mask community.
(Brian Hayward's Aramdilla – Voted "The Most Popular Mask" of all time)
Masked Marvels was formally started almost 15 years ago by Joe and Stan. While working at their goalie school, Bandits Goalie School, Joe and Stan noticed that the majority of the kids attending had a major mask problem of one type or another. The most obvious of these of flaws was a poor overall fit and the dreaded back plate gap. As Joe and Stan began to keep an eye on this problem, they discovered many other issues. These problems ranged from the flexibility, durability and longevity of their masks to the quality of the foams used and/or the overall care of their helmets. There was also a fundamental problem with the way people were, and in most cases still are, purchasing helmets.
Parents visit the local hockey store and only have 1 or 2 choices for a mask. If this is a first time hockey or goalie parent, they recognize a well-known brand, see a HECC or CSA sticker, and move on. There's never much consideration of how it's made, the country of origin, or the type of materials used. If you really stop and think about it, the average retail outlet only sells 1-2 brands of helmet with limited sizes in stock. Every goalie in the NHL has a custom shell or a custom padded helmet. The concern with this scenario directly related to a story Joe told me about a helmet recently sold to a 7yr old. The father called Joe and wanted to upgrade his plastic retail helmet because his son already experienced a concussion wearing the plastic mask. With today's research, we know that concussions cannot be fully prevented with a helmet alone and we are learning more every day. However, I think everyone who's taking the time to read this article can agree that some issues will be prevented or reduced with a proper fitting mask made of a quality construction. I mention these two antidotes to outline what has become the focus of the Masked Marvels product; proper fit, feel, and, most importantly, protection.
When I asked Joe why he chose the style of shell he did initially, I will classify it as a traditional 1990's Greg Harrison type style, Joe replied that he wanted something that looked visually appealing and sleek. Masked Marvels firmly believes that people prefer the more traditional looks and he don't see the benefit of straying too far from it. He didn't want to turn off perspective customers because the helmet did not pass the mirror test. That would defeat the purpose of his mission. The purpose is to supply people with a better helmet at an affordable price. If potential customers are turned off by the design, there's an unfortunate reality that people might skip over the product and stick with a lesser mask because it looks cool. What else can explain why certain models sell so well at retail? A Masked Marvels mask is designed to be something that people will WANT to wear every time they step on the ice.
(The quintessential 1990s Greg Harrison Mask – Felix "The Cat" Potvin)
The big evolution in their product line has been an expansion in shell choices and the blend of materials used in the shell. They had some extremely progressive ideas in the beginning that didn't work out and they are not afraid to admit that. All of those learning experiences from more than the last decade have transformed the company to where they are today. According to Masked Marvels, "You can have the best possible materials, but if the recipe for the blend of materials and resin doesn't work collectively together, the mask will become brittle, bend and ultimately break".
In the history of the Michigan based company, there have been some key milestones. In 2004, the company was started with Thief model and it was very well perceived. This was followed by the Assassin in 2008 which was one of those key learning experience with new materials. In 2011, Masked Marvels introduced the Outlaw which was the turning point for the company.
The Outlaw is now on its 2nd generation, the Outlaw 2.0, and has a new sibling in their stable of pro level shells. Their recently launched Assault model follows their design philosophy around traditional looking masks and is a Jerry Wright style. This new pro model has crushed it so far. The Assault model has outsold Masked Marvels own expectations by around 5x to this point and really fills out their product line category, which now consists of 5 unique models. The pro level masks should be particularly interesting to TheGoalNet community because Masked Marvels is the only company that gives you a choice between the two most iconic shell designs in hockey which also happen to be affordable, sold directly by the fitter, made in North America, and built with high end materials.
When Joe and Stan take a break from Masked Marvels, Bandits Goalie School, Edge Protech, and their newest venture, the Piranha Peg to actually read this article, they will probably be very disappointed that I have not mentioned customer service yet. It's one of their key business pillars pertaining to not only their helmets, but all of their hockey operations. Joe and Stan are extremely realistic that the old adage of "a happy customers tells 1 person and an unhappy customer tells 5".
With social media, this fact is just exacerbated. Take a look at some of the Instagram or Twitter accounts for people promoting goalie equipment. They have well over 20,000 followers. One negative post will be seen by thousands of people. A unique trait about Masked Marvels, which directly correlates to their service approach, is that Joe has a private mask collection. He can still appreciate the excitement of getting a FedEx shipment with a new mask in it and the smile it generates. Joe and Stan both want to make sure that their customers share that same feeling and smile when their new Masked Marvels mask arrives.
A key to that new mask excitement is making sure that the mask fits perfectly when they try it on for the first time. That's why Masked Marvels puts such an emphasis on the foams used inside their helmet to create the best fit and feel for the customer. They use different grades of foam depending on the price point of the mask chosen, but each was strategically chosen to help meet the requirements of that mask segment. Joe and Stan want every level of mask to have the "premium feel of a luxury car". Foam is the only part of the mask that truly interacts with your head and that's why it's such an important part of the final product. The pro level masks use medical grade VN closed cell type foam that won't get bacteria and will basically "suction cup" to your head.
To do the fittings for the mask, Masked Marvels will use a variety of unique tools. This includes sending samples demo masks to people, face timing customers, looking at pictures of the interior of their existing mask, looking at pictures of them wearing a demo Masked Marvel and looking at pictures of their facial configuration as no two human heads are the same.
If nothing else during my time speaking with Joe, I came to realize very quickly that he's a goalie and a mask guy through and through. He's not out to get his masks in every, or any, retail outlet or pay the NHL licensing fees to have his logos shown in the NHL. He wants customers of all ages and skill levels to be able to afford a quality constructed product and know that Masked Marvels took care of them.
Looking back at all, Masked Marvels was started because of a unique fascination of goalie head gear. It has grown from a startup in 2004 and evolved into one of the largest mask specific brands in the hockey industry. This success can be credited to their attention to detail and putting customers first. They vow to exceed peoples' expectations because that is what every customer wants and that is what every goalie deserves!